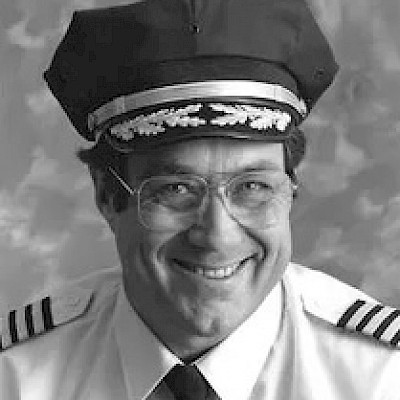 Lawrence "Bill" Dennis
January 4, 1942 -
September 21, 2022
Lawrence William "Bill" Dennis, aka Captain Jack, took his last flight on September 21, 2022. He died of advanced Parkinson's Disease, after an illness of eight years.
Bill was born January 4, 1942, during a record-breaking snowstorm. His 80 years were no less exciting. His parents who preceded him in death were Lawrence Emil "Lorney" Dennis and Lucile Jeffers Dennis. Bill graduated from the "old" Dowling High School in 1960 and from Creighton University in 1965 with a degree in radio and TV broadcasting.
The word entrepreneur defined his adult life. After producing and directing television programs for KDPS (now KDIN), he became a teacher of radio and TV production at Tech High School. From then on, he formed many small businesses, some short in duration, others lasting several years. His mind was always moving, always looking ahead.
He became known as Captain Jack on WHO radio flying his Cessna airplanes over Des Moines to report on traffic morning and afternoon. He capitalized on his name and conceived of Captain Jack's Christmas Tree Farm and Captain Jack Communications among many other businesses.
In 1963 he married Cicily Haller Dennis. Their son David Lawrence was born in 1966. They divorced in 2000. He married Rhonda in 2002. In 2007 after the death of his parents, the tree farm stopped its sales, and Bill and Rhonda permanently moved to a favorite location in Kissimmee FL despite hurricanes, heat and humidity. They moved back to Iowa in October 2021 as his health deteriorated to be near family. And indeed, they enjoyed the fun and laughter of family gatherings at all key events including his 80th birthday.
He had the opportunity to attend grandson Jason's concerts and enjoyed playing monopoly with him. He was a faithful Hawkeye follower (with competition for time with Rhonda's Cyclones). His move to Iowa gave him nearly a year to enjoy all of the other precious memories that families build.
Left to grieve him are Rhonda, sisters-law-Marie (Bob) Sander, Jeff (Tonya) Wheeler, Nedra Wheeler, and Tami Wheeler; his first wife Cicily, son Dr. David Dennis, grandson Jason Dennis, daughter-in-law Angela Rubino, 1st cousin Ray (Kathy) Dennis (they grew up nearly as brothers), Cicily's five sisters Linda, Mary, Beth, Lisa (Bob), and Sybil and many nieces, nephews, and cousins. Those preceding him in death include his parents, his brothers-in-law Bill Haller and Mack Gettler, nephews Alex and Andy Gettler, parents-in-law Ray Haller and Eleanor Butts.
•
Remembering Lawrence "Bill" Dennis
Use the form below to make your memorial contribution. PRO will send a handwritten card to the family with your tribute or message included. The information you provide enables us to apply your remembrance gift exactly as you wish.