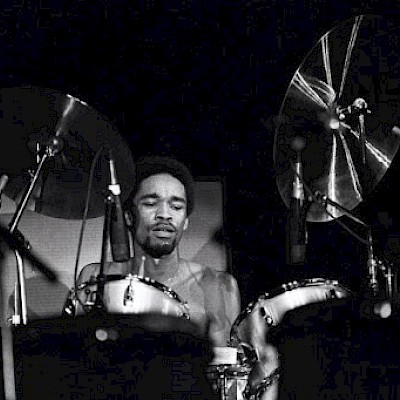 Fred White
January 13, 1955 -
January 1, 2023
FRED WHITE, DRUMMER for the groundbreaking funk outfit Earth, Wind and Fire — and half-brother of lead singer Maurice and brother of bassist Verdine White — has died, his family announced on Jan. 1. White was 67 years old.
"He joins our brothers Maurice, Monte, and Ronald in heaven and is now drumming with the angels," Verdine White wrote in a tribute shared on Instagram. (He did not disclose a cause of death; Maurice White died after a battle with Parkinson's Disease in 2016.)
A child prodigy who began drumming at age nine before going on to earn his first gold record at the age of 16 for his work on Donny Hathaway's Live — which made Rolling Stone's list of 50 greatest live albums of all time — White joined his brothers' band in 1974 just before the group shot to stardom on the success of its sixth studio album, That's the Way of the World. Both the album and the single, "Shining Star," hit number 1 on the Billboard charts.
Earth, Wind and Fire went on to sell more than 90 million records, cementing its status as one of the best-selling bands of all time. Beloved by critics as well as fans, the band was nominated for 17 Grammys, and won six. 
More than two dozen members have cycled in and out of Earth, Wind and Fire since its founding in 1969, but White was part of the nine-man lineup inducted into the Rock and Roll Hall of Fame in 2000.
While Maurice — Earth, Wind and Fire's vocalist, co-founder, and producer — began his career as a drummer, it was Fred playing percussion on the Earth Wind and Fire's biggest hits, like "September," "Boogie Wonderland," and "Shining Star."
Longtime Earth, Wind and Fire frontman Philip Bailey paid tribute to White on Twitter, writing, "EWF. That Family groove foundation. It was built on Maurice, Verdine, and Freddy. We never had to say much… The Groove was in the Blood … RIP my little Brother."
•
Remembering Fred White
Use the form below to make your memorial contribution. PRO will send a handwritten card to the family with your tribute or message included. The information you provide enables us to apply your remembrance gift exactly as you wish.