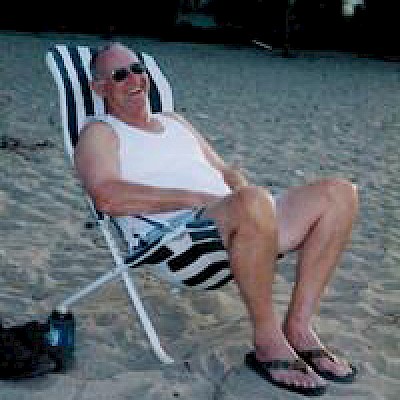 Nicholas Philip Jones
May 6, 1944 -
August 11, 2022
Nicholas (Nick) Philip Jones of Summerland BC died on August 11, 2022, battling Parkinson's disease.
Nick was born May 6, 1944, in Harrogate, England

Nick is survived by his loving wife of 40 years Marina (Calangis-Jones), brothers and sisters Paul Jones (Deep River, Ont.), Mark Jones (Annapolis MD), Fenella Bramwell (Manchester, England), Clare Haire (Belfast NI) Roland Jones (Dubai UAE), many nieces and nephews, in-laws, and close family like friends.
He is predeceased by his parents Joyce (Bird) and William Jones and brother Julian.

Nick immigrated alone to Canada from the UK in 1962 as an 18-year-old boy to work in the high Arctic for the Hudson Bay Company (HBC) settlement stores trading goods and furs. He thrived in the Canadian northern environment and found his true life there. He was posted in what was then Spence Bay, Cambridge Bay, Gjoa Haven, Belcher Islands and then also after leaving HBC worked in Paulatuk and Bathurst Inlet.

Nick did many jobs after moving "south" to Yellowknife NWT in the late 1960s. His passion was the ice roads which he worked building, driving and maintaining. He was an avid adventurer, snowmobiling, fishing summer and winter, bush whacking and being with friends, many who are still life long. He worked as a fishing guide on Great Slave Lake and had jobs over the years too many to name. His career included being a firefighter with the Yellowknife Fire Department and his final work in the NWT was back on the ice roads.

Moving to Summerland, BC with his wife Marina in 1988, Nick settled into Okanagan life, establishing his own business and taking up golf, always continuing to fish, trap shoot, fossil hunt, geocache, bird watch. He loved all things that took him outdoors. When he became more home bound, he loved the hummingbirds and always was in search of the perfect photo.

Life slowed Nick down with health issues including a final diagnosis of Parkinson's Disease less than one year ago. It took him down quickly, but he was brave in his diagnosis and decline. Nick passed away with dignity and grace with Marina and family like friend at his side.
•
Remembering Nicholas Philip Jones
Use the form below to make your memorial contribution. PRO will send a handwritten card to the family with your tribute or message included. The information you provide enables us to apply your remembrance gift exactly as you wish.