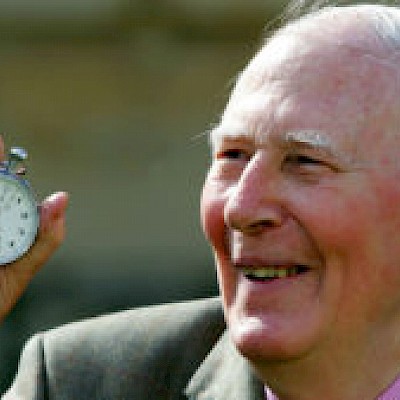 Roger Bannister
March 1, 1929 -
March 3, 2018
Roger Bannister, the British runner who raised the bar for athletes all over the world by breaking the four-minute mile in 1954, has passed away at the age of 88, his family said Sunday.
Bannister died in Oxford "surrounded by his family who were as loved by him, as he was loved by them," relatives said in a statement. A medical student at the time of his historic record in 1954, when he completed a mile in 3 minutes, 59.4 seconds—a feat previously thought impossible—he went on to lead a distinguished medical career but later suffered from Parkinson's disease.
Speaking to the Associated Press of his record-breaking run in 2012, he said, "It became a symbol of attempting a challenge in the physical world of something hitherto thought impossible. I'd like to see it as a metaphor not only for sport, but for life and seeking challenges."
•
Remembering Roger Bannister
Use the form below to make your memorial contribution. PRO will send a handwritten card to the family with your tribute or message included. The information you provide enables us to apply your remembrance gift exactly as you wish.