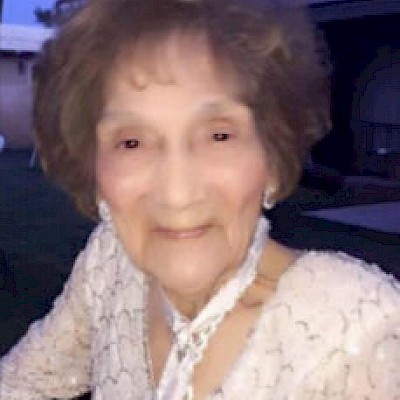 Elva C. Gonzalez
June 13, 1933 -
April 5, 2018
On Thursday, April 5, 2018, Elva C. Gonzalez, 84, went home to be with her loving Husband, Federico B. Gonzalez, and our Lord Jesus Christ. She was born in Donna, Texas but moved to California at the age of 14. She is survived by her 6 children, Olga S. Castro, Linda S. Alvarez (Vince) Ida S. Ochoa, Federico C. Gonzalez (Karen), Lorena Gonzalez, Yvonne Gonzalez (Tony), 24 grandchildren, 37 great-grandchildren and 1 great-great grandchild. Also, her sister, Esperanza Hernandez. She was preceded in death by her husband, Federico, parents, Antonio and Dolores, Sisters, Juanita, Margarita, Angela, Elida and brothers, Manuel and Antonio. Elva was a hardworking, loving mother and businesswoman.
From the age of 9, she worked to support her family. For most of her young adulthood, she worked in the agriculture industry as a foreman. With the love and support of her husband she opened and successfully owned/operated several small businesses in the Coachella Valley. She also served as a planning commissioner for the City of Coachella and was in charge of organizing the fiestas mexicanas held in the City of Coachella. She worked at the Riverside County courthouse for several years as an interpreter. She retired from Riverside County Nutrition Program as the Nutrition Supervisor for the Coachella Senior Center. Of all her accomplishments, her greatest joy was her family and helping others.
She will be greatly missed by everyone who knew and loved her. Services will be held to honor her memory on Wednesday, April, 11, 2018 from 5:00pm-9:00pm at Forest Lawn in Coachella with a rosary to be held at 6:00pm.
Mass will be Thursday, April 12, 2018 at Our Lady of Soledad Catholic Church in Coachella at 11:00 interment at Coachella Valley Cemetery. Services under the direction of Forest Lawn
In lieu of flowers, the family suggests donations to Parkinson's Resource Organization Parkinsonsresource.org or mail to 74-090 El Paseo, Suite 104, Palm Desert, Ca 92260
•
Remembering Elva C. Gonzalez
Use the form below to make your memorial contribution. PRO will send a handwritten card to the family with your tribute or message included. The information you provide enables us to apply your remembrance gift exactly as you wish.