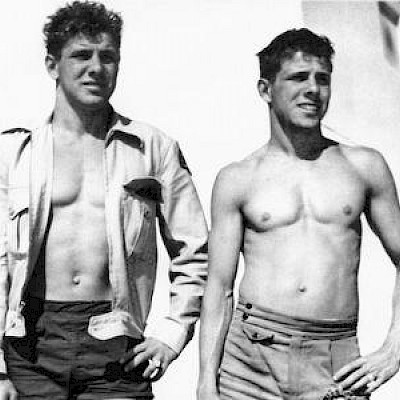 Bill Meistrell
July 30, 1928 -
July 26, 2006
Bill Meistrell was a pioneering waterman and lifeguard whose inventions, talents, and exploits helped transform surfing and diving into worldwide phenomena and billion-dollar industries. He died from Parkinson's disease on Tuesday, July 26th at his home in Rancho Palos Verdes surrounded by family and friends. Bill was 77.
Bill and twin brother Bob are two of the three watermen named to both the surfing and diving halls of fames. Bill and Bob were born in Booneville, Missouri; Bill on July 30, 1928, and Bob 20 minutes later on July 31st. Bill and Bob started diving as kids in the farm's pond using an oilcan for a helmet and a bicycle pump and a hose for air. Bill and Bob had big dreams as Missouri farm-boys. Bob Meistrell explains, "We had three goals when we were small boys: own a submarine; go deep-sea diving; and treasure-hunting. Somehow we managed all three."
A former business partner murdered their father when the twins were only four years old. Bill and Bob moved to Manhattan Beach with their mother, two brothers and three sisters in 1942. Bill attended Redondo Union High School and graduated from El Segundo High School in 1947. Bill, a Korean War veteran, was awarded the Bronze Star. Bill and Bob were among the first crop of Los Angeles County Ocean Lifeguards in the 1940s and were among the first generation of California surfers and divers who blazed a path for generations to follow.
Bill bought into their retail store Dive N Surf in Redondo Beach in 1953 with brother Bob, legendary surfboard maker Hap Jacobs, and renowned surfer and diver Bev Morgan. Dive N Surf was the first and is the oldest surf and dive shop of its kind in the South Bay of Los Angeles. Bill and Bob became sole owners in 1958. Bill, Bob, and partner Morgan, are best known for inventing (in 1953) the first practical wetsuit, which revolutionized surfing and diving. Bill came up with the phrase "fits like a glove" and Body Glove was born. Body Glove's boned-hand, which Bill helped design, is one of the most globally recognized brand logos.
•
Remembering Bill Meistrell
Use the form below to make your memorial contribution. PRO will send a handwritten card to the family with your tribute or message included. The information you provide enables us to apply your remembrance gift exactly as you wish.