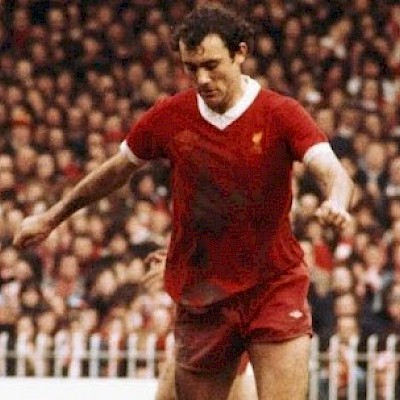 Raymond Kennedy
July 28, 1951 -
November 30, 2021
Kennedy was an English footballer who won every domestic honour in the game with Arsenal and Liverpool in the 1970s and early 1980s. Kennedy played as a forward for Arsenal, and then played as a left-sided midfielder for Liverpool. He scored 148 goals in 581 league and cup appearances in a 15-year career in the English Football League and also won 17 caps for England between 1976 and 1980, scoring three international goals.
Kennedy turned professional for Arsenal in November 1968. He made his first-team debut 10 months later and went on to win the Inter-Cities Fairs Cup in 1970, the First Division and FA Cup Double in 1970–71, and then play on the losing side in the 1972 FA Cup Final. His form then declined, and he was sold to Liverpool for a club record £200,000 fee in July 1974, at the same time that Bill Shankly resigned as manager. He initially struggled at the club, but after manager Bob Paisley converted him to a left-sided midfielder he went on to help Liverpool to become the dominant club of English football from 1975 to 1982. During his time at the club Liverpool won the First Division five times (1975–76, 1976–77, 1978–79, 1979–80, and 1981–82), the FA Charity Shield four times (1976, 1977, 1979 and 1980), the European Cup three times, (1977, 1978, and 1981), and the UEFA Cup (1976), UEFA Super Cup (1977), and League Cup (1981). He also picked up runners-up medals in the FA Cup (1977), UEFA Super Cup (1978), League Cup (1978), and World Club Championship (1981) and won the Match of the Day's Goal of the Season award in 1978–79.
He was a strong player with an excellent first touch, intelligence, and all-round ability. This allowed him to transition from a forward to a midfielder during his time at Liverpool. Despite his trophy successes with Arsenal and Liverpool, after winning six caps for the England under-23 side he was unable to translate his club form into a good international career and was used as a stand-in for Trevor Brooking before he retired from international football in frustration in March 1981. His only international tournament appearance was at Euro 1980. Bob Paisley described him as "one of Liverpool's greatest players and probably the most underrated".
Kennedy joined Swansea City for a £160,000 fee in January 1982 and added a Welsh Cup winners medal to his collection four months later. However, the effects of Parkinson's disease began to reduce his effectiveness on the pitch, and he dropped into the Fourth Division with Hartlepool United in November 1983. During the 1984–85 season he spent a brief time as player-manager of Cyprus club Pezoporikos and later played for Northern League club Ashington. He was diagnosed with Parkinson's disease in November 1984. His life after football was difficult, as he had to deal with the effects of Parkinson's, the loss of his business, and the breakdown of his 15-year marriage. He remained reliant on charity to fund his medical expenses and was forced to sell his medal collection and caps in 1993.
Kennedy was diagnosed with Parkinson's disease by a specialist on 4 November 1984. He gave permission for his image to be used to promote a public campaign to increase awareness of the disease. His involvement in the Parkinson's Disease Society led to him meeting his childhood hero Muhammad Ali. He was also invited to do some coaching at Sunderland in the 1986–87 season by manager Lawrie McMenemy, and worked as a part-time coach from February to April 1987, at which point he was promoted to first-team coach.
His wife, Jennifer, left him in October 1987 after he punched her in the face and kicked her down the stairs of the family home; this ended a difficult 15-year marriage blighted by frequent infidelity on his part. They had two children: Cara (born July 1976) and Dale (born January 1981). Former Liverpool teammate Ray Clemence recalled how Kennedy "worked hard and played hard". Other teammates Steve Heighway and Phil Thompson noted that Kennedy was a "quiet man", though "women were always chasing after him" and "off the pitch he needed to be handled quite gently, and everything had to be organised just right otherwise there would be trouble". Completing a bad end to 1987, his licence at the Melton Constable was revoked. His prescribed L-DOPA medication also became less effective and he became increasingly isolated. His condition improved when he began injections of apomorphine. He was reliant on the Professional Footballers' Association to pay his medical expenses, and his divorce as well as business and tax problems wiped out his savings. A testimonial game was held between Arsenal and Liverpool in April 1991. A charity appeal was also set up to help pay his living costs. In late 1992 he began suffering from extreme paranoia, mostly due to the side effects of his medication, but regained his mental faculties following a short stay in hospital.
He published his autobiography Ray of Hope in 1993, co-authored by Dr. Andrew Lees, who at that time treated Kennedy for Parkinson's disease. Later that year he sold his collection of medals and international caps to raise funds. In 2002, he was reported as living alone in a bungalow in New Hartley. In an interview two years later, he said that he suffered from loneliness and hallucinations due to his condition and the side effects of his medication. Following the interview a Liverpool fan bought Kennedy a computer, which allowed him to make friends on football chat rooms. Kennedy remained a favourite amongst Liverpool supporters decades after leaving the club, and was voted in at No. 25 on the 2013 poll '100 Players Who Shook The Kop'. He died on 30 November 2021, at the age of 70.
•
Remembering Raymond Kennedy
Use the form below to make your memorial contribution. PRO will send a handwritten card to the family with your tribute or message included. The information you provide enables us to apply your remembrance gift exactly as you wish.